Xiaomi MI 10 Price In Sri Lanka
රු124,900.00
Network GSM / HSPA / LTE / 5G
Dimensions 162.5 x 74.8 x 9 mm (6.40 x 2.94 x 0.35 in)
Build Glass front (Gorilla Glass 5), glass back, aluminium frame
Display 6.67 inches, Super AMOLED, 90Hz, HDR10+, 500 nits, 1080 x 2340 pixels, 386 ppi
Operating system Android 10, MIUI 12
Processors and chipset Qualcomm SM8250 Snapdragon 865 (7 nm+)
Octa core CPU
Adreno 650 GPU
Memory 128GB 8GB RAM, 256GB 8GB RAM, 256GB 12GB RAM
Description
Xiaomi MI 10 Price in Sri Lanka
Last Product Update day: 2021/05/21
Product overview comparison with Xiaomi MI 10 price in Sri Lanka
The Xiaomi MI 10 is a very good looking phone released on February, 2020. Introduced with an expensive looking Shiny, curved glass around the back, metal frame at the sides with a bold and 90Hz high refresh rate screen on the front. With the premium look, enhanced camera and better chipset there is nothing lack in this for the MI 10 price in Sri Lanka, At least when it consider to its premium design and detailed screen, Xiaomi has accomplished a great craftsmanship from their way through affordable smartphones, and the MI 10 series is its best-looking to date and valuable for the best price in Sri Lanka.
Although Xiaomi MI 10 is not the latest flagship device from the company, since the launch of Xiaomi MI 10 Pro, MI 10T and the latest of the MI flagship series the Xiaomi MI 11. Even though those successors came with lot of improvements from MI 10, the MI 10 is still one of the better flagship devices from Xiaomi with continuously increasing user base. This is most importantly due to the more affordable and reasonable Xiaomi MI 10 price in Sri Lanka.
Clearly Xiaomi MI 10 holds an interesting position in Xiaomi's MI flagship line up. When all previous MI series devices have balanced between their affordable price in Sri Lanka and performance, the Xiaomi MI 10 and 10 Pro is giving away a more premium experience. The overall featured specifications are the high performance processing hardware that feels smoothly flowing with android applications, delivers impressive battery life, and packs a truly evolutional fast wireless charging. Moreover, the camera setup take the credit up for the most part. Although users expected more advanced secondary sensors for the main camera setup.
Even Xiaomi MI 10 comes with latest fast processing hardware, sometime we doubt that MIUI with customized Android 10 does not allow the hardware to reach their maximum potential processing power. The company has made a great progress with MIUI skin, but compared to Oxygen OS, One UI and, pure stock Android One, this MIUI seems to be less smooth. With this level of hardware users expect more convenient operating system experiences for this high end price in Sri Lanka.
Product specifications that determine the Xiaomi MI 10 price in Sri Lanka
                                     Network

GSM / HSPA / LTE / 5G

Dimensions

162.5 x 74.8 x 9 mm (6.40 x 2.94 x 0.35 in)

Build

Glass front (Gorilla Glass 5), glass back, aluminium frame

Display

6.67 inches, Super AMOLED, 90Hz, HDR10+, 500 nits, 1080 x 2340 pixels, 386 ppi

Operating system

Android 10, MIUI 12

Processors and chipset

Qualcomm SM8250 Snapdragon 865 (7 nm+)

Octa core CPU

Adreno 650 GPU

Memory

128GB 8GB RAM, 256GB 8GB RAM, 256GB 12GB RAM

No Micro SD card slot

UFS 3.0

Rear Camera (Main)

108 MP, f/1.7, (wide), PDAF, OIS
13 MP, f/2.4, 12mm (ultra-wide)
2 MP, f/2.4, (macro)
2 MP, f/2.4, (depth)

Front camera (Secondary)

20 MP, f/2.0, (wide)

HDR

3.5mm Headphone jack

No

Battery and charging

               Li-Po 4780 mAh, non-removable              

 

Fast charging 30W
Power Delivery 3.0
Fast wireless charging 30W
Reverse wireless charging 5W

Colours

Coral Green, Twilight Grey, Peach Gold
To justify the flagship level of the device as well as the high end Xiaomi MI 10 price in Sri Lanka, company has finished the MI 10 design and build with a high quality premium level. And the build quality is also similar to the level of Apple iPhones which bear the most expensive price in Sri Lanka due to its luxurious build. Xiaomi MI 10 have pretty larger dimensions than rest of the flagship Xiaomi smartphones. As a least expensive high end smartphone series the screen size is pretty enough for the Xiaomi MI 10 price in Sri Lanka. Unlike most of Xiaomi devices, MI 10 build comes with a glass front, glass back reinforced with aluminium frame. These are same like the built specifications of expensive Apple iPhones. Although its aluminium frame is less durable than stainless steel frames of contemporary released flagship devices which are bearing more expensive price in Sri Lanka, it is better and durable than carbon fibre body and plastic body of other Xiaomi devices. Xiaomi has included latest gorilla glass 3 technology for the protection of the front glass. For the Xiaomi MI 10 price in Sri Lanka you can receive the best protective and luxurious build quality which are exceptional to high end devices.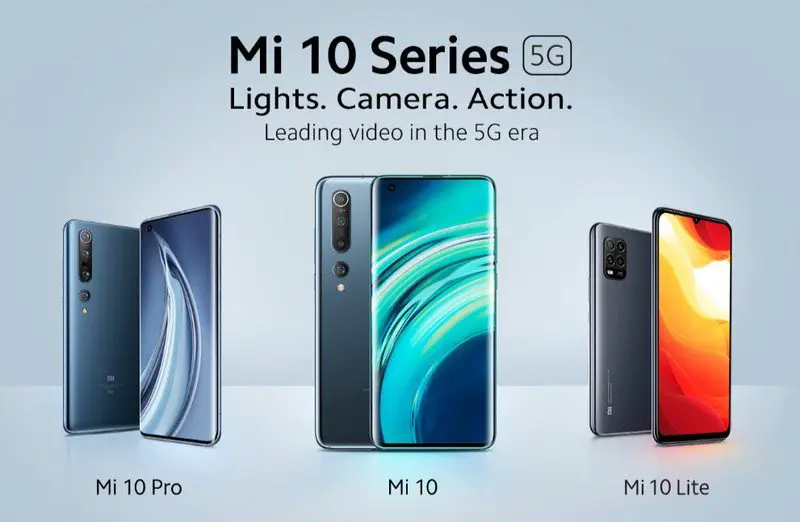 Image Source : https://www.gsmarena.com/
Super AMOLED screen for with highest refresh rate for the price in Sri Lanka
Xiaomi MI 10 is equipped with a 6.67 inches huge super AMOLED panel with a Full HD plus resolution and a very high 386 pixel density for an accurate and detailed output. This screen quality should be appreciated for the Xiaomi MI 10 price in Sri Lanka as most of the Xiaomi devices comes with normal IPS LCD display. Xiaomi has taken a huge step using this quality AMOLD display to maintain the flagship level of Xiaomi MI 10 with other Xiaomi devices in the market. Company has included their latest and finest technology to provide the user with better graphical output, precise and high colour accuracy and user friendly brightness levels. This screen is a best all-rounder whether gaming, watching, or just aimlessly swiping through the applications. It has a maximum manual brightness level of 500 nits which is favourable for user eyes but can achieve much brightness in auto mode. This will handle your ability to view indoors and out in all even with the brightest conditions for the affordable Xiaomi MI 10 price in Sri Lanka
The Xiaomi MI 10 screen is HDR10+ enhanced making the HDR movies look greater than viewing from an IPS LCD, especially in low light environment.  This OLED panel will give you clear view points from a greater range of viewing angle. Overall screen and display quality is quite reasonable for the Xiaomi MI 10 price in Sri Lanka.
108 Mega pixels for Xiaomi MI 10 price in Sri Lanka
The most significant feature of the Xiaomi MI 10 is the latest and unique 108 mega pixel main camera sensor. Xiaomi unveiled Samsung's 108MP camera sensor to the world for an amazingly impressive price in Sri Lanka. The huge-resolution sensor was a revolution in smartphone market and became a main factor to determine the high-end Xiaomi MI 10 price in Sri Lanka. 
Including 108 mega pixel f/1.7 as the primary sensor, this camera setup is accompanied by a 13 mega pixel ultra-wide sensor, 2 mega pixel macro lens and a 2 mega pixel depth sensor.
However the lack of a secondary telephoto lens is more highlighted in this camera setup. Instead of including a telephoto lens Xiaomi has taken steps to compensate that with larger pixels and providing a better digital zoom facility for the users. But this zoom facility is only applicable for brighter exposures and cannot be used in low light environment. But for this price in Sri Lanka, cannot complain about lack of a telephoto lens.
With quality camera sensors the MI 10 has got some impressive shooting modes. Photo, video, portrait, night mode and pro mode are the usual shooting modes while there is also a 108MP photo mode that captures full resolution photos with high accuracy and details. That level of image quality is quite superior for the Xiaomi MI 10 price in Sri Lanka.
Maximum flagship level performances
The Xiaomi MI 10 has a 7nm Snapdragon 865 chipset along with an octa-core CPU and Adreno 650 GPU. To suit this processing setup MI 10 comes with multiple configurations of RAM and internal storage. With 8GB RAM 128GB or 256GB storage and 12GB RAM with 256GB of storage. With these configurations the Xiaomi MI 10 price in Sri Lanka also varies with 12GB RAM version leading the most expensive price in Sri Lanka out of above three.
With above hardware specification Xiaomi MI 10 provides you a well featured smartphone for mobile gaming. Tier 1 processing power, a detailed and highly refreshing screen and enough internal space for even the latest mobile games. For the Xiaomi MI 10 price in Sri Lanka this device is an almighty for mobile gamers.
Xiaomi's MIUI 12 interface is a better UI for Android 10 but compared with Android one stock Android this needs to be more smoothen. It really runs stably with user friendly graphics which is impressive. But compared to other same level flagship devices around the same price in Sri Lanka, this UI needs some upgrades to be done. Users have complained about misbehaving of applications while installing a new application. Xiaomi lovers hope that this will be fixed in future updates. Even with MIUI users are allowed to experience all the google services which are almost free. Compared with IOS users these facilities are economical for the high end Xiaomi MI 10 price in Sri Lanka.
The under-display fingerprint scanner a trending feature of most of the flagship level smartphones. But compared to the dedicated stand-alone fingerprint sensor, this works slower. Si it will be worth for the Xiaomi MI 10 price in Sri Lanka if company would have worked more on Face ID unlock rather than developing a under display fingerprint sensor. The best example is Apple iPhone which have the most advanced Face-ID authenticating system. But compared to expensive iPhone price in Sri Lanka, Xiaomi MI 10 is reasonable with this level of specification for the affordable Xiaomi MI 10 price in Sri Lanka.
Xiaomi MI 10 comes in 3 attractive colours as Coral Green, Twilight Grey and Peach Gold for different user preferences. Xiaomi MI 10 price in Sri Lanka does not change with colours. These colours give a much glossy premium appearance with the glass back. Aluminium frame adds some more expensive look to the glossy colours. Compared to Apple iPhones, these colours are more stylish and shiny. Users can use a strong back cover with preferred designs and colours to get more stylish and protective features if they prefer. But these back covers truly hide the premium appearance of these flagship smartphones.  
Best Xiaomi MI 10 price in Sri Lanka from different sellers
Dealz Woot                                  Xiaomi MI 10 price in Sri Lanka                                                          
Present solution                          Xiaomi MI 10 price in Sri Lanka                             
Smart mobile                               Xiaomi MI 10 price in Sri Lanka              
Doctor Mobile                             Xiaomi MI 10 price in Sri Lanka              
IDealz                   Xiaomi MI 10 price in Sri Lanka
You should always purchase your Xiaomi MI 10 from Xiaomi authorized sellers in Sri Lanka. If you buy from an authorized seller you can assure your product and accessories are genuine Xiaomi products. And you will always receive manufacturer's warranty from these sellers. If you seller is unable to provide you with a manufacturer's warranty period that seller is not an authorized Xiaomi dealer and their products may be duplicate or replica.  
Most of authorized Xiaomi sellers will provide you easier payment plans with instalments and credit card facilities. If you are unable to afford the high end Xiaomi MI 10 price in Sri Lanka, You can purchase the device by agreeing to pay the total of the device's price in Sri Lanka from 6-24 moths.
If you are planning to use this kind of payment facilities you should consider following points prior to purchase the device.
Cost of funds (Interest or service chargers)
Duration of facility
Early settlement fees
Penalties
General terms and conditions
Additional information
NETWORK

GSM / HSPA / LTE / 5G

BODY

162.5 x 74.8 x 9 mm (6.40 x 2.94 x 0.35 in)
Glass front (Gorilla Glass 5), glass back, aluminium frame

DISPLAY

6.67 inches, Super AMOLED, 90Hz, HDR10+, 500 nits, 1080 x 2340 pixels, 386 ppi

PLATFORM

Android 10, MIUI 12

MEMORY

128GB 8GB RAM, 256GB 8GB RAM, 256GB 12GB RAM
No Micro SD card slot
UFS 3.0

MAIN CAMERA

108 MP, f/1.7, (wide), PDAF, OIS
13 MP, f/2.4, 12mm (ultra-wide)
2 MP, f/2.4, (macro)
2 MP, f/2.4, (depth)

SELFIE CAMERA

20 MP, f/2.0, (wide)
HDR

BATTERY

Li-Po 4780 mAh, non-removable
Fast charging 30W
Power Delivery 3.0
Fast wireless charging 30W
Reverse wireless charging 5W

MISC

Coral Green, Twilight Grey, Peach Gold